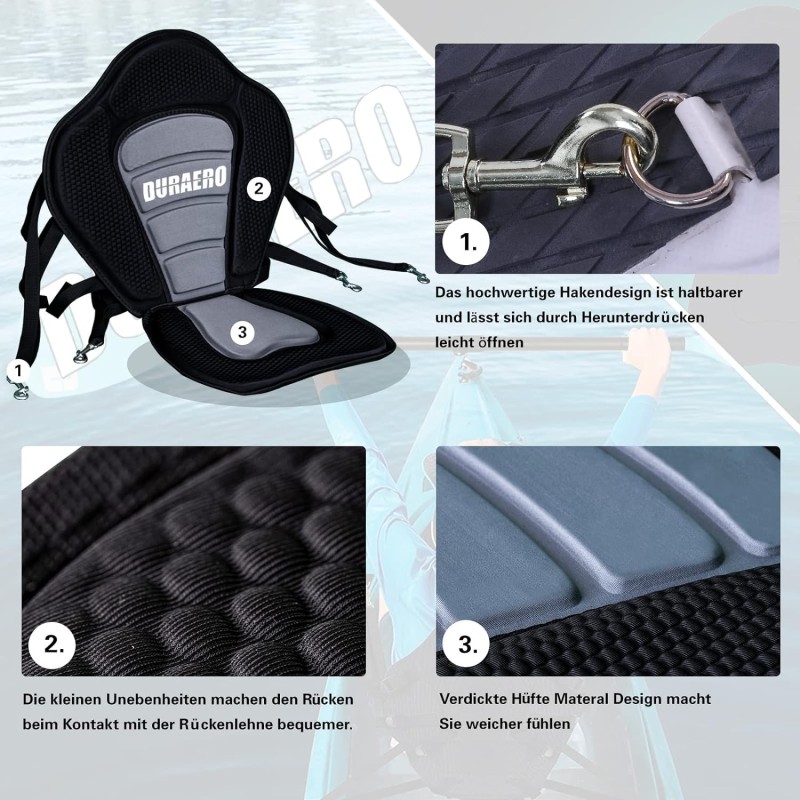  
Stand up paddle board inflatable SUP board set, 330x76x15cm, up to 150kg, green-yellow-red
Stand up paddling board inflatable SUP board set, incl. kayak seat, 330x76x15cm, up to 150kg, integrated kick pad, 3 fins, adjustable double paddle, cam holder, complete accessories, green-yellow-red
Stand up paddling board inflatable SUP board set, incl. kayak seat, 330x76x15cm, up to 150kg, integrated kick pad, 3 fins, adjustable double paddle, cam holder, complete accessories, green-yellow-red
✈ In the field of water sports, paddle boards are on the rise and are now a hot activity in the fitness movement. Equipped with the latest SUP technology and offers

perfect water sports trend fun for young and old on lakes, rivers and sea waves and guarantees you the ideal mix of durability, stability, manoeuvrability, speed and directional stability.

✈ Awesome design! With many filigree ornaments and elements on the front and back, the board is ideal for hobby enthusiasts as well as yoga board trainers for peaceful relaxation. And the unique SUP integrated kick pad allows you to make quick turns and changes of direction easily and on point while maintaining speed.

✈ Kayak and Stand Up Paddle boarding in ONE. We believe you shouldn't have to choose between one of the two, so we've created an iSUP that can do both. If you are tired or just want a change, you can easily convert the SUP board into a kayak.

✈ Dimensions 330x76x15cm, board weight approx. 7.75KG, super design and excellent material.

✈ Scope of delivery: 1 SUP board, 3 three fins, kayak seat, safety loop (leash), repair kit, air pump, extensive operating instructions, portable backpack (85x25x30cm), length-adjustable double paddle with length indicator.

✈ The inflatable SUP board has a camera base at the front. Please use the handy action camera mount for your future paddling trips to record great footage using the built-in action camera mount which is compatible with numerous cameras.
Customers who bought this product also bought:
16 other products in the same category: